You're busy during fall and cleaning can pile on fast, making your home a horror zone for odors. Eerie smells and bacteria can lurk in your couches, carpets and curtains, making your home smell a bit spooky.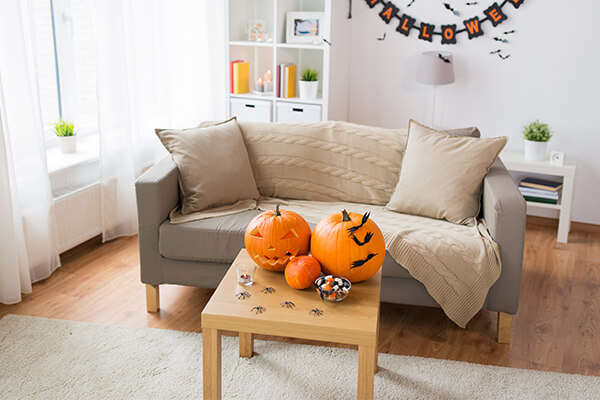 So, we have some tips to help you cast out the scary smells in your home.
How to make your house smell good:

1. Exorcise Ominous Odors
Open your windows! Air out your home during the day when sunlight, with ultraviolet components, can disinfect and help remove odors.
2. Wash Wicked Waste Bins
Wash your trash cans. Use hot soapy water to clean inside and outside your trash cans that may be keeping unfriendly smells in the home.
3. From Pungent to Perfumed
Use dryer sheets everywhere. Place dryer sheets in drawers, closets and even in the bottom of trash cans throughout your home for a fresher scent.
4. Shocking Shoes
If you can smell your shoes from a mile away, sprinkle baking soda on the inside to help absorb the smell.
5. Simmer a Cauldron of Spices
Add Citrus slices, herbs, mint or cinnamon sticks to water in a small saucepan and simmer over low heat to create a pleasant aroma to fill your home.
6. Mask your Mattress
To remove odors from your mattress, sprinkle baking soda on the top, let sit and vacuum away.
7. De-Gross a Grody Garbage Disposal
Clean your garbage disposal. Toss lemon or lime rinds into your disposal and run water to clean it out. This will give a fresh citrus scent.
8. Potion for your Pantry
Baking soda soaks up odors. If something in your pantry is foul, open up a box of baking soda and stick it in your pantry to absorb smells.
9. Refresh a Rancid Refrigerator
If your refrigerator smells, open a box of baking soda and keep it in the door of the fridge to remove odor.
10. Vanishing Vinegar and Essential Oils
Vinegar disinfects and gets rid of bothersome smells. Add essential oils to make your DIY disinfectant smell even better.
11. Obliterate Must
Rid your home of any must smells with equal parts vinegar and water. It destroys the must and disinfects.
12. Oust Carpet Stench
Make a DIY deodorizer with baking soda. Sprinkle it on your carpets to take away the smells, let sit and vacuum away!