Kids, pets, day-to-day routines - with everything we have going on it's easy for spills to happen and for them not to get cleaned up. Before spills occur, make sure you know how to clean them up quickly, so those quick spills don't turn into lasting stains.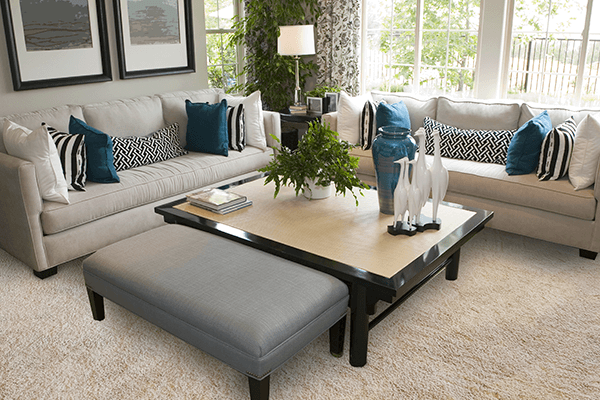 To start, we'll cover the most spilled on and stained flooring, carpet.
Learning how to get stains out of carpet requires two things. The first is knowing what kind of fibers make up your carpet and the second is having all the right cleaning agents to help remove the spot.
There are two types of carpet fibers: synthetic and natural. Synthetic fibers are machine made fibers - commonly made out of nylon or polyester. These fibers are much more stain resistant than natural fibers and less expensive. Natural fibers, on the other hand, are made from materials found naturally and constructed that way. Wool is the most common type of natural carpet fiber. These fibers easily absorb stains and are typically better at insulating sound and heat.
Your carpet cleaner solution will need to be based on what kind of fibers make up your carpet. If you're unsure what kind of carpet you have in your home, here's a carpet identification guide.
Once you know what kind of carpet you have, you can choose how to clean your carpet:
What to use to clean carpet
Water
Dish detergent
Microfiber towel
Vinegar
Baking soda
Ammonia - before you choose to use ammonia, do a test in a small spot on your carpet to reassure there will be no damage to the fibers
Spray bottle
How to clean synthetic carpet
Vacuum carpet thoroughly.
Combine one cup water with two teaspoons dish detergent in a spray bottle.
If a stain is fresh or still wet, sprinkle baking soda to absorb the moisture and vacuum up.
Spray water and dish soap mixture on carpet, focus on stains, and blot up with towel.
Repeat until dirt is lifted.
If the stain a stain is colored and will not lift, add ammonia to a microfiber towel and blot until the stain is gone.
How to clean natural carpet
Vacuum carpet thoroughly.
Combine one teaspoon dish soap, one teaspoon vinegar and two cups water in a spray bottle.
Spray on carpet. A key to natural fibers is not to soak them, as soon as you lightly spray, blot with a dry, clean towel.
Repeat until dirt is lifted.
Stanley Steemer spot remover is safe to use on natural and synthetic carpet fibers. It's an easy and effective carpet stain remover that helps get stains out of carpet.
If the stain has settled over time or is too tough for your homemade carpet cleaner, you can always turn to the professionals for help. Stanley Steemer is the best carpet cleaner because we use EPA approved carpet cleaning chemicals combined with our proprietary hot-water extraction process to achieve the best results possible.
Get a carpet cleaning quote.