back
BACK
6 Ways to Remove Fall and Winter
Allergens from Your Home
What is an allergen, how does it affect you and how do you get them out of your home?
When the weather starts to cool off and you spend more time inside, you'd think being inside your home would protect you from allergens and irritants… but it doesn't. In fact, the air inside your home can be up to 5 times more polluted than the air outside. This is because your home traps allergens like pet dander, dust mites and mold. This can cause common, cold-like symptoms like watery eyes, runny nose, sneezing, a rash or hives.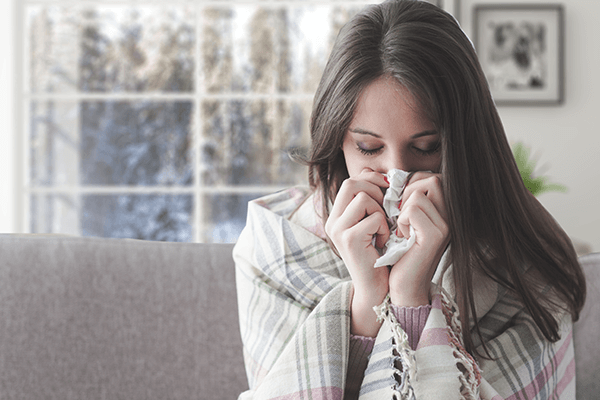 To help you combat indoor allergies, we've outlined a few tips to help you remove allergens from your home.
Here are tips to help you keep allergens out of your home during winter.
1. Wash all fabrics.
Reducing allergies in winter starts with washing everything that can hold dust mites. To do this start by washing your bedding and other fabrics. Create a cleaning schedule that maps out when you should clean your bedding, curtains, blinds and furniture.
2. Use a dehumidifier.
Tackling the mold and mildew in your home can be a challenge. Dehumidifiers remove excess moisture in the air creating an environment that makes it hard for dust mites and mold to live.
3. Replace your air filter.
Your HVAC is the heartbeat of your home, heating and cooling to make everyone comfortable. Ignoring your air filter can not only fail your system, but also can cause the air in your home to be more polluted. Just think of all the dust and dirt that's potentially being circulated. Changing out your air filter will help clean the air inside your home and reduce allergens.
4. Replace old caulking.
When your caulking and sealants start to get dark and you can see mold spores, don't go for the bleach. The most common bleaches you can buy at the store won't actually kill what's growing on your caulk. Once you see discoloration, you need to replace the caulking or sealant entirely to get the mold out.
5. Clean your air ducts.
Your air ducts can collect up to 40 lbs of dust, dirt and household allergens collects in just one year. According to the EPA, this can cause common organic pollutants to be 2 to 5 times higher inside homes than outside. That's right, the inside of your home contains more pollutants and allergens than the outside. This is why it's important to have your air ducts cleaned every year. Air duct cleaning takes pounds and pounds of dirt out of your ventilation system, significantly reducing the allergens in your home.
6. Get your floors professionally cleaned.
Spot cleaning your carpet, hardwood and tile and grout can get the everyday dirty and unsightliness up from your floors. But have you thought about what a broom or vacuum can't pick up?
Stanley Steemer removes 94% of household allergens from carpet, 98% of allergens from hardwood flooring and 96.5% from tile and grout.