back
BACK
Clean And Exercise Checklist
The new year is a great time to set new goals for yourself. If prioritizing health and exercise is one of them, here are some ways to work out while you do your day-to-day cleaning!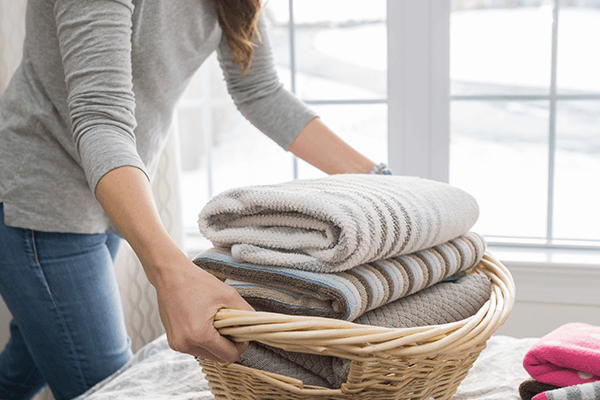 Clean your floors.
Vacuum/mop and lunge: While cleaning your floors, add lunges to your routine. Every time you push your cleaning tool forward, lunge. Step your leading foot forward and bend that knee at a 90-degree angle. Here's how to do a lunge. Switch legs, repeat motion in the same spot to incorporate both legs and clean the area twice.
Spot clean.
Blot and push-up: While spot cleaning carpet, hardwood or tile, when you're on your hands and knees, between spot removal applications, do five push-ups. If you're a beginner or advanced, here's how to do a pushup.
Doing laundry.
Running loads of laundry as the stair stepper:

If your washer and dryer are on another floor, it's easy to fit in going up and down the stairs as exercise. Going up the stairs 5 -10 times while running laundry is a good way to fit in cardio in your cleaning routine.
Squat and fold: While you're folding laundry, instead of sitting down and folding or lifting the laundry to your level, pick up each individual piece and squat. Incorporating 30-60 bodyweight squats is good for your quads. Here's how to correctly do a squat.
Bicep curl a laundry basket: When you are running laundry around, make sure to hold the basket at a 90 degree angle to flex your biceps and work your muscles. The longer you can hold the basket, the better.
Dust your house.
>
Shoulder press and dust: Every time you dust a high place, keep your arms high and try not to lower them past your shoulders. When you extend to dust, push your arms up and then back to 90 degrees. Here's how to do a shoulder press. If you want to invest in your cleaning workouts, you can buy weights that go around your hands to work out your biceps, shoulders and back with more intensity.
Get groceries.
Go to the store and get in your steps: When you go running errands, park in the back of the parking lot to maximize your step count while you're out.
Want to up your cleaning exercise game? Here's a schedule to
incorporate exercises into every two minutes while you clean
.