The Family
Over 70 years ago, the founder of Stanley Steemer invested a little over $2,000 in a home-based carpet cleaning company. The Jack Bates Carpet Cleaning Company was set to soon be a national, professional cleaning business. What started as one man, a van and a vision, turned into an empire of independently owned and operated locations servicing 49 states and employing thousands of people.
In 1972, Stanley Steemer opened its first franchise in Lima, OH with a prototype of the "Stanley 1," a first-of-its-kind steam cleaning machine. Four years later, the famous Stanley Steemer van took shape with the invention of the first truck-mounted, dual cleaning wand. To this day, we still use that state-of-the-art truck-mounted system.
By 1984 Stanley Steemer International was born and had 215 franchises, 14 branches and serviced 38 states, all while remaining family owned. Over the course of the next 31 years, the family business was able to add air duct, tile and grout, upholstery, hardwood and off-site area rug cleaning to their portfolio of cleaning services - reaching 49 states.
Stanley Steemer is still family owned, on its third generation, and celebrated its 70th anniversary in 2017. A true tale of the American dream that is able to make cleaner and healthier homes across the United States.
The Bates family was also able to keep all manufacturing and engineering in Ohio. A large part of what sets Stanley Steemer apart from other carpet cleaners is our ability to make everything on our own, without distributors, just as our founder, Jack Bakes, envisioned it. Stanley Steemer is proud to be made in the USA.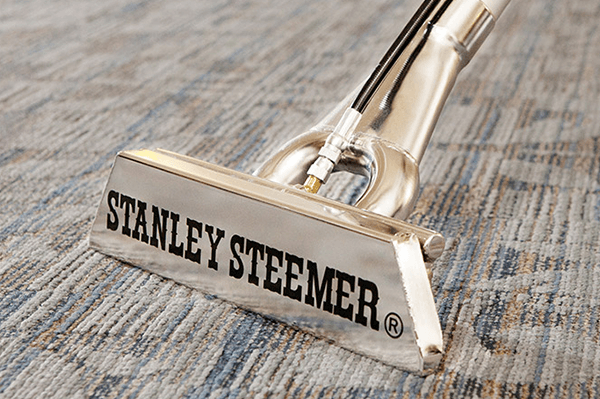 Manufacturing
Most carpet cleaning companies buy their parts from distributors. When companies buy from distributors, it makes it hard to control quality, price and innovation. Stanley Steemer, however, can regulate all of these factors.
Our manufacturing plant, located in Columbus, Ohio, makes all our own equipment with very strict quality measures. It's important that our customers know we have high quality standards because it guarantees your home is cleaned with the safest, most efficient carpet cleaning machines. Because we aren't dependent upon distributors, we have the most innovative cleaning technology.
Floor Cleaning
Our process is different from other carpet cleaners because our cleaning wands use six spray tips for thorough cleaning. This original design makes carpet cleaning, hardwood cleaning, tile and grout cleaning, and upholstery cleaning more efficient. Other professional cleaning companies use three or four spray tips making the cleaning process less effective and more time-consuming due to streaking and covering less cleaning surface.
Our innovative and efficient technology is amplified by our state-of-the-art cleaning products. Stanley Steemer is certified asthma and allergy friendlyⓇ by the Asthma and Allergy Foundation of America. Our certification was granted by the independent program to test products that are more suitable for people with asthma and allergies. We remove an average of 94% of common household allergens from carpet, 96.5% of allergens from tile & grout, and 96% from hardwood.
Not only is our carpet, tile and grout, hardwood, water remediation and air ducts processes certified, but so are our cleaning chemicals. Our pre-spray, carpet cleaning solution and professional spot remover are verified by the EPA as Safer Choice. This mark enables consumers to quickly identify and choose products that can help protect the environment and are safer for families.
Training Our Associates
When it comes to the application of our cleaning chemicals and cleaning equipment, we prioritize technician training and educating to ensure that everything is used in a safe and efficient way; moreover, our training establishes that when Stanley Steemer arrives at your home, you are greeted with a smile and left with satisfaction. We staff our own employees and never sub-contract. Our training is done in-house to guarantee proper professional cleaning techniques.
Scheduling
When deciding to schedule with Stanley Steemer to have our top-of-the-line equipment, cleaning solutions and technicians clean your home, you can choose from two different 24/7 quoting and scheduling methods. Call us anytime at 1-800-STEEMER or visit our website and get a free, instant quote or appointment. We even have same day service available!
Stanley Steemer can clean carpet, hardwood, tile and grout, natural stone, air ducts, upholstery, area rugs, oriental rugs, cars, boats, RVs, and even your water emergencies. We also specialize in commercial services. We can clean any kind of small or large commercial carpet, tile and grout, hardwood, natural stone, upholstery, and air duct system with our made in the USA, efficient, innovative equipment.
Stanley Steemer has been in service for over 70 years, is locally owned and operated, and always guarantees satisfaction. Need another reason to choose Stanley Steemer? We move most furniture, free of charge.