Stanley Steemer's mattress cleaning is very similar to the furniture cleaning process. Both have a large surface area that acts as an air filter in your home - they easily trap odors, dirt and allergens. In fact, an average used mattress could have anywhere from 100,000 to 10 million dust mites inside.
If you're one of the 76 million Americans who suffers from asthma and/or allergies, having up to 10 million dust mites per bed is an easy trigger for your symptoms because dust mites and their waste is a common constituent of household allergens.
That's why Stanley Steemer is proud of offer mattress cleaning. Commonly referred to as steam cleaning a mattress, we use hot water extraction to clean your mattress. Using hot water to clean your mattress is beneficial because in order to kill dust mites and other contaminants, you need to heat above 70 degrees. We also use gentle, neutral cleaning agents that are tough on dirt but harmless to the environment as well as your family and pets who spend time on the surface.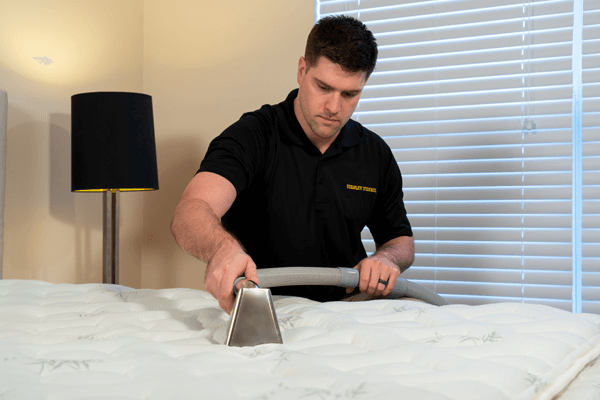 How Stanley Steemer Cleans A Mattress
We start our mattress cleaning with a pre-inspection and documentation for any preexisting conditions like discoloration, type of mattress or age. We do not clean your mattress topper, just the physical mattress itself. We can only clean spring mattresses and do not recommend a hot water extraction method on memory foam mattresses because wet foam may not fully dry and can lead to secondary damage.
Technicians pre-vacuum your entire mattress to extract insoluable debris, such as dirt, hair and gritty soils.
Then, we spot treat areas that may need some extra attention. This is a common step if you are trying to get pet accidents out of your mattress.
Next, with the upholstery cleaning wand, we deep clean your mattress with hot water and our residue-free cleaning solution. The wand also extracts the water and cleaning solution with a powerful, truck-mounted cleaning vacuum to make sure your bed dries as fast as possible, capturing moisture and loosened soils from the fabric. With natural cellulosic cotton or rayon, it's important to understand that technicians may not be able to inject hot solutions into the fabric because of potential browning of the fabric. This process may require the use of a cotton shampoo to safely clean.
You have the option to add deodorizer to your mattress after the mattress cleaning. Our deodorizer immediately neutralizes them at the source, not covering up the smell.
A key component of our mattress cleaning service is making sure to accelerate the dry time. It's important to know the possibility of wicking, the process in which a stain could reappear when the moisture evaporates and it brings the stain back to the surface.
Last, we make sure to inspect your mattress to make sure you're happy with the results.
Your mattress should be dry in 5-8 hours.
Call 1-800-STEEMER to schedule your mattress cleaning with a Stanley Steemer near you!