All areas rugs are unique and each one requires special care. Understanding that each is different is important to maximizing life and quality. Handmade, machine-made and tufted rugs are the three most common types of rugs and each has their own identifying qualities. Knowing how to clean an area rug starts with recognizing what type of rug you have. And, to keep your rugs looking new, they require regular maintenance and deep cleaning.
Handmade Rugs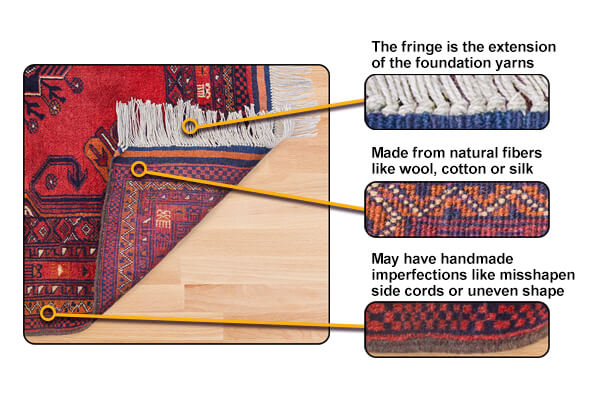 How to Clean Oriental Rugs
Hand-woven or hand-knotted rugs are considered true "Oriental Rugs." These rugs are usually one-of-a-kind and can be very valuable. Do-it-yourself methods and cleaners are often too harsh and can damage these rugs. We recommend handmade rugs always be cleaned in our Oriental & Fine Area Rug cleaning facility. Our professional oriental rug cleaning process is one of the safest and most advanced methods available. And, we even offer free pick-up and delivery.
Machine Made Rugs

How to Clean Machine Woven Area Rugs
There are two main ways to clean machine made area rugs – you can do it yourself or you can have it professionally cleaned.
To clean a machine woven area rug yourself:
First check the manufacturers instructions on the rug to see their approved methods.
Vacuum your area rugs 2-3 times a week.
Make your own area rug cleaner. Combine ¼ teaspoon dish soap and one cup water, spray an area and blot dry. Similar to carpet, follow this guide on how to remove 5 common stains.
Just like carpet, machine woven rugs require deep cleanings about once a year. They can usually be cleaned by our technicians in your home. However, depending on your rug's construction, age or areas of concern, your technician may recommend it be brought to our Oriental & Find Area Rug cleaning facility. There, our state-of-the-art submersion cleaning process deep cleans your rug while our climate-controlled drying room makes sure it is dried thoroughly. Ask your technician which cleaning method is best for your machine made rug.
Tufted Rugs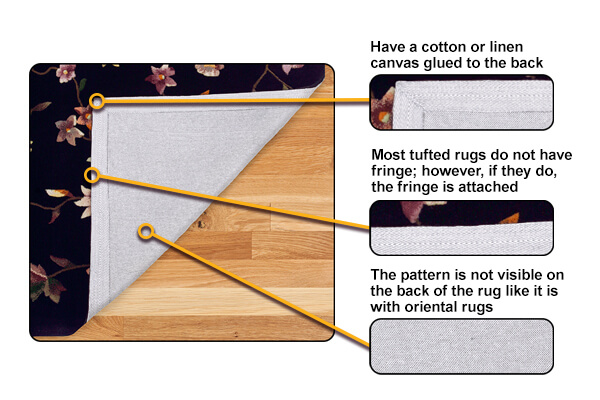 How to Clean Tufted Area Rugs
To deep clean a tufted rug:
First, check the rug label to see what the manufacturer recommends.
If the rug is machine washable, run on a delicate cycle. Air dry the rug by hanging it over a drying rack so both sides of the rug will get air.
Some tufted rugs will require dry-cleaning or the use of commercial cleaning products. Always test a small area of the rug before using products all over.
While making tufted rugs is faster than true oriental rugs, these rugs can still be very valuable and require special maintenance and care. They are frequently made from natural fibers and contain glues and adhesives that secure different areas of the rug together. For the safest and most effective cleaning process, we recommend having them cleaned at our Oriental & Fine Area Rug cleaning facility.