Thinking about the air in your home is important to the health and cleanliness of your house and your loved ones who occupy it.
Air duct cleaning is vital to purifying the air you breathe every day. According to the National Air Duct Cleaners Association (NADCA), air is re-circulated through your home 5 to 7 times per day, on average. So, when your air vents look dirty, that dirt holds contaminants that are circulated through your home multiple times a day.
Getting contaminates out of air ducts is important for all homes, but according to the NADAC, it's especially pertinent if you or your family members:

Have pets
Have allergies
Have asthma
Smoke cigarettes
Complete home renovation or remodeling projects
All of these factors go into your indoor air quality, or IAQ, which is the air quality in or around buildings, and most importantly, your home. Living in a home with poor IAQ can lead to immediate and long-term health effects.
According to the Environmental Protection Agency (EPA) immediate effects can be irritation of the eyes, nose, throat, headaches, dizziness and fatigue. These health effects are treatable and can go away. In cases with asthma and allergies, the symptoms may become more severe or agitated.
Long-term health effects can be respiratory diseases, heart disease and cancer, according to the EPA. All of which can be debilitating or fatal. Keeping your family and friends safe from these harmful pollutants can help eliminate immediate and long-term health problems.
So, where do you start? A good place to start improving your indoor air is by clearing your air vent grates. This step is absolutely safe to do by yourself and can be added to your weekly or monthly cleaning list.
There are a couple of different ways to clean the dust in between the spaces in your air vent grates:
Dust the grate
Use compressed air to push out the dirt
Run your grates through the dishwasher
Repaint to give a fresh look
Soak in a bucket of hot, soapy water
Another way you can start cleaning the air in your home is by changing your air filters in your HVAC system. Depending on the living situation in your home, it varies how often you should change your air filters. Stanley Steemer recommends:
Single person home: once or twice a year, or six to 12 months
Family home with no pets: three or four times a year, every three to four months
Family home with pets: five to six times a year, or every two months
Family home with no pets and occupants with allergies or asthma: five to six times a year, or every two months
Family home with pets and occupants with allergies or asthma: 12 times a year, or once every month
It's also important to understand what kind of air filters to buy. Different filters can trap different kinds of contaminants and irritants. Minimum efficiency reporting value or MERV is the recognized way of measuring filter efficiency. For homes and family members with pets, asthma or allergies, we recommend a MERV filter of 13-16.
To better understand MERV ratings, what they trap and why they are important, read more about MERV here.
If your home has gone through any water damage, contamination, HVAC damage, home damage, home renovation or remodeling projects, you should change your air filter as soon as possible.
Cleaning your air return, intake vents and HVAC filters are important DIY tips to cleaning the air in your home. Doing both of these steps frequently will improve the way your HVAC functions and the quality of air in your home; however, cleaning the air ducts in your home requires a professional.
There are two main reasons you should get your air ducts professionally cleaned: 1. Efficiency and 2. Cleanliness. Air duct cleaning clears your duct system, making it clear to run without blockage. According to the Office of Efficiency and Renewable Energy, 43% of the home utility bill goes to heating and cooling. If homes can run with maximum efficiency, you can reduce the expense and resources it takes to heat and cool your home.
Read five more reasons why you should get your air ducts cleaned.
Getting into the ductwork of your home can be dangerous to you and your HVAC system. This process should only be handled by professionals. Expert cleaning companies have the knowledge and equipment to pull dust, debris and allergens from the entirety of your air duct and heating and cooling system.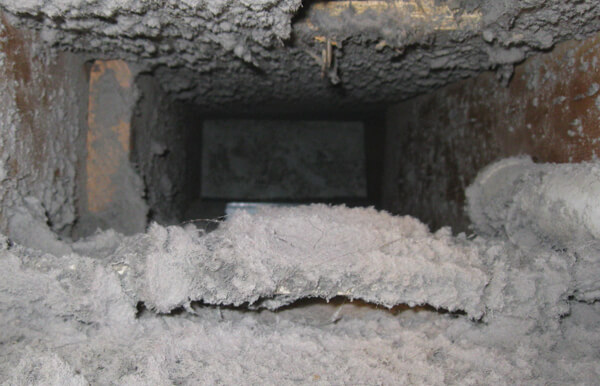 At Stanley Steemer, we start with an air duct inspection by our certified technicians. Once we've determined the cleanliness of your air ducts, we schedule an air duct cleaning and start with a powerful HEPA-filtered vacuum. Stanley Steemer begins its cleaning process with the furnace evaporator coil, blower and vent covers.
After we clean the coils, blowers and covers, we connect our HEPA-filtered vacuum to your ductwork to pull dirt from deep inside the system. Our powerful vacuum system connects to the air ducts near your furnace. Various tools and compressed air are used to dislodge the contaminants and debris in your air ducts. The vacuum then pulls the contaminants out of the duct system, leaving behind nothing but clean duct work, which will allow air to flow freely.
So, when and how often should you have your air ducts cleaned? The NADCA recommends you should clean your air ducts every 5-8 years. Depending on the situation of your home, that number can change. Visit our FAQ page for answers how often you should clean your air ducts depending on your circumstances.
For more information on air duct cleaning, click here.