Have you fallen out of love with your home? With how much time you spend in your home, don't you deserve to be in love with it?
To help you, we've outlined tips and tricks to help you refresh your home in easy ways, so you can fall in love again.
Refresh your home in these easy ways.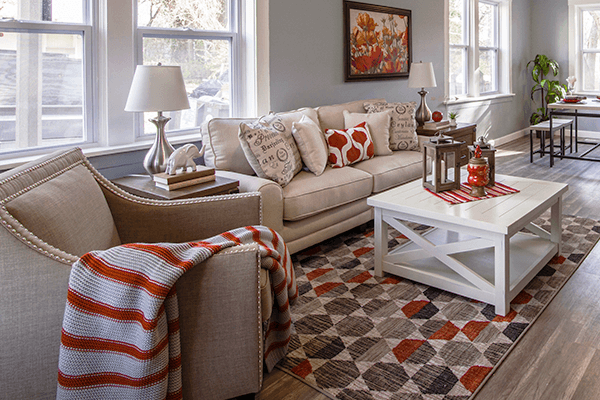 Easily Organize.
Take the time to tackle your hardest organization project. Making your space as useful as possible is an easy way to fall in love with your home. Organize under the sink, organize your closet, organize your tupperwear drawer, organize your home office, or literally anything else you can think of.
Add Something New To Your Walls.
Whether it's buying a print and framing it, adding shelves, placing wall decals, painting an accent wall or making something totally your own, adding just one new detail to your walls can provide a whole new, fresh feel to any room.
Deep Clean Your Carpet.
Remember what your carpet looks like now because once you have your carpets professionally cleaned, you will have a whole new feel. Stanley Steemer removes 94% of common household allergens - dust, dirt, dander, all things that discolor and add wear and tear to your floors.
Add Green.
Real or fake, adding greenery is an easy way to make your space feel fresh and new. A simple DIY home project is making your own flower wreath or flower center piece to add a pop of color and liveliness.
Repaint Your Front Door.
Add a new pop of color to your front door to create new curb appeal and a more lively feel when you walk into your home. Here's a simple door painting tutorial that shows what a difference a new door color can make. Add a wreath too!
Professionally Clean Upholstery.
Lighten up your furniture and remove all settled dirt with a professional upholstery cleaning. Moisturize your leather or steam clean your light fabric couch with Stanley Steemer's upholstery cleaning services.
Add New (Or Neutralize) Smells.
Make your own essential oil Fabreeze, make a new wax for your wax burner or utilize your deffuser to add new scents to your home. If you're sensitive to smell, or just love the smell of "clean," you can also remove powerful aromas in your house by deep cleaning. Removing dirt and allergens and making your home dirt free is a simple way of falling in love with your home again. Add baking soda to your carpet for a simple DIY deodorizer. Baking soda is a natural and easy way to absorb odors. Purchasing odor neutralizer and adding it to upholstery is an effective way of removing stale odors in your home. Having professional cleaning services deep clean your floors is also an effortless way of adding the smell of "clean."
Create New Storage.
Decluttering and having clean, fresh space is actually healthier for your mind and body than to live is a space that isn't. Enjoying your home is as straight forward as decluttering. Create storage to organize your space and add new decor.
Add Area Rugs.
Area rugs not only add color and texture to a room, but they also protect your floors from heavy wear and tear, keeping your space fresh. Area rugs are easy to clean and can amplify your space.
Change Your Grout Color.
Costing fractions of the price of a new tile floor, you can clean your tile and change the grout color to totally switch up the look. Make your grout sparkling white, or add warmth with an off white or brown color.